Rochester, NY is a thriving business hub with a rich history, a vibrant culture, and a strong innovative spirit. As a result, staying ahead in today's fast-paced digital landscape is crucial for success. However, managing IT infrastructure can be overwhelming and time-consuming. No matter if you're a small business owner or a decision-maker in a larger organization, managed it services can be a game-changer.
In this guide, we're going to explore the advantages of managed IT services and provide you with some handy tips on how to choose the perfect provider.
What are Managed IT Services?
So, what exactly are managed IT services? Well, it's quite simple. Managed IT services involve outsourcing your IT responsibilities to a third-party provider. This includes monitoring and managing IT systems, as well as providing support and maintenance.
The best part? You get to focus on what truly matters – your core operations – while ensuring that all your IT needs are met.
Benefits of Managed IT Services In Rochester, NY
Let's dive into the benefits that managed IT services can bring to businesses in Rochester, NY.
First and foremost, as we find ourselves in the age of digital transformation, IT has become the backbone of any successful business. In fact, 84% of decision-makers are concerned about the lack of skill and resources in this department.
With sophisticated cyber-attacks on the rise, the pressure is real. Add to that the urgency of migrating to the cloud and building a hybrid work environment, and you've got yourself quite a challenge.
It doesn't help that labor shortages are preventing projects from taking off. Consequently, more businesses are turning to managed IT services.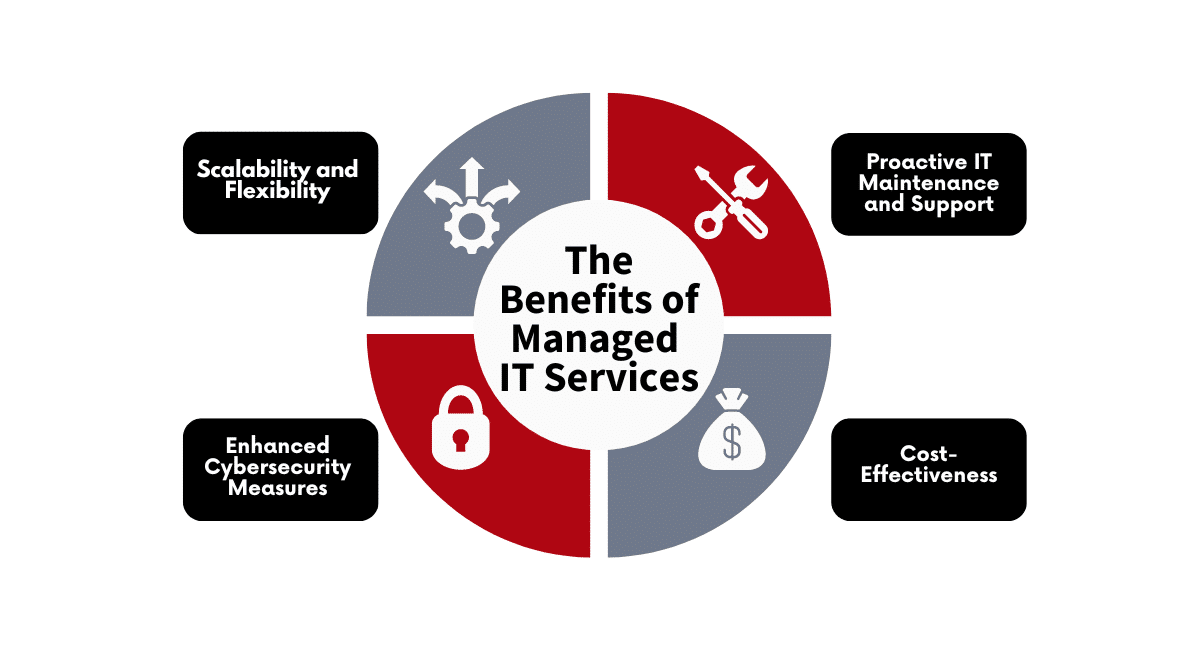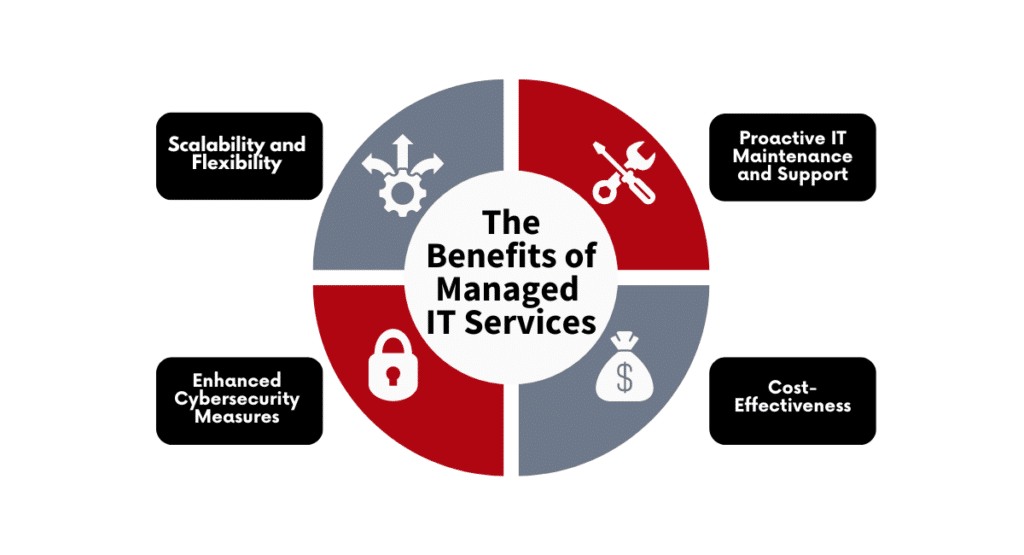 Scalability and Flexibility
Running a winning business requires a winning team. While your in-house IT technician may be talented, managing your company's IT infrastructure is no easy feat for one person alone. They have their hands full with keeping your company afloat on a day-to-day basis.
As your business grows, so do your technology needs. Upgrading your equipment, bringing in new hires, and ensuring compliance can be a real headache for your in-house IT team. Managed services allow you to sidestep these constraints that come with business growth, giving you the flexibility and scalability to adapt to your needs.
By partnering with a managed IT service provider, you can strengthen the security of your data while reducing labor costs by 70-90%.
Proactive IT Maintenance and Support
Downtime and technical glitches can be costly for any business. With managed IT services, you can avoid these headaches.
Managed IT service providers monitor your systems around the clock, addressing any potential issues before they become a problem. Regular maintenance, updates, and patches ensure that your technology is always running at its peak performance.
Enhanced Cybersecurity Measures
With cyber threats becoming more sophisticated, protecting your business data is crucial. Managed IT service providers employ state-of-the-art security measures to safeguard your network, detect potential threats, and respond to any breaches, ensuring your sensitive information remains secure.
When you partner with a managed IT service provider, you gain access to a team of skilled and certified IT professionals. These experts have in-depth knowledge of industry trends and best practices, providing valuable insights and guidance. With their expertise, you can be confident that your IT infrastructure will align perfectly with your business goals and budget.
Managed IT Services: Key Services
Now that we've covered the benefits, let's take a closer look at the key services offered by managed IT service providers, in Rochester, NY.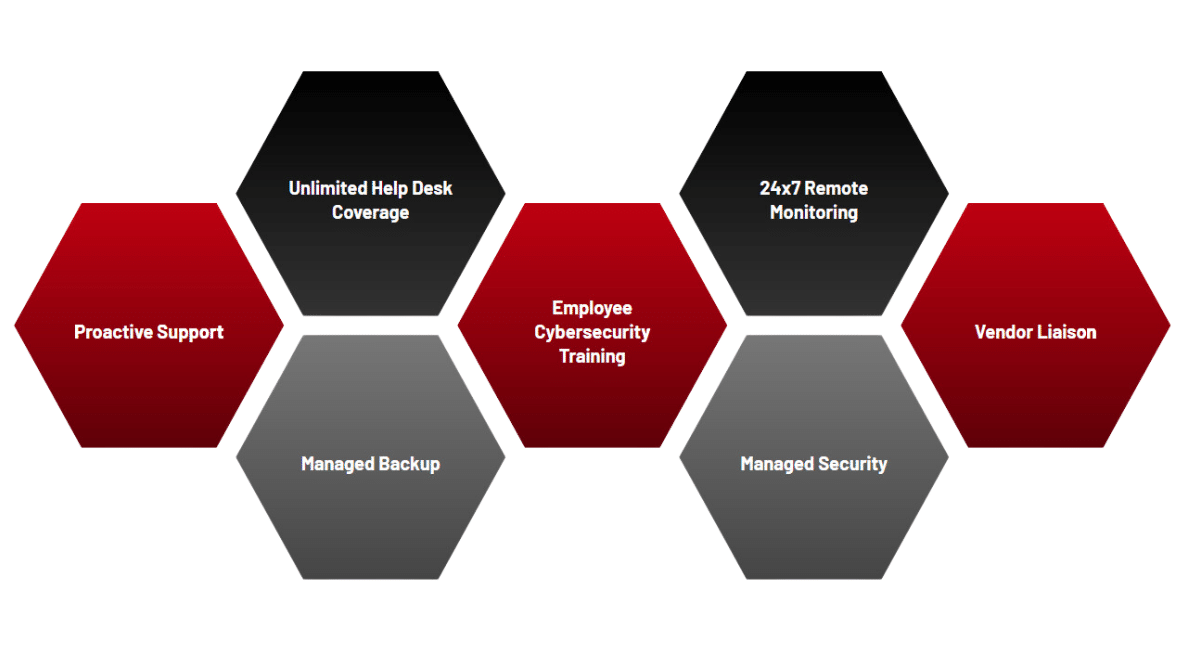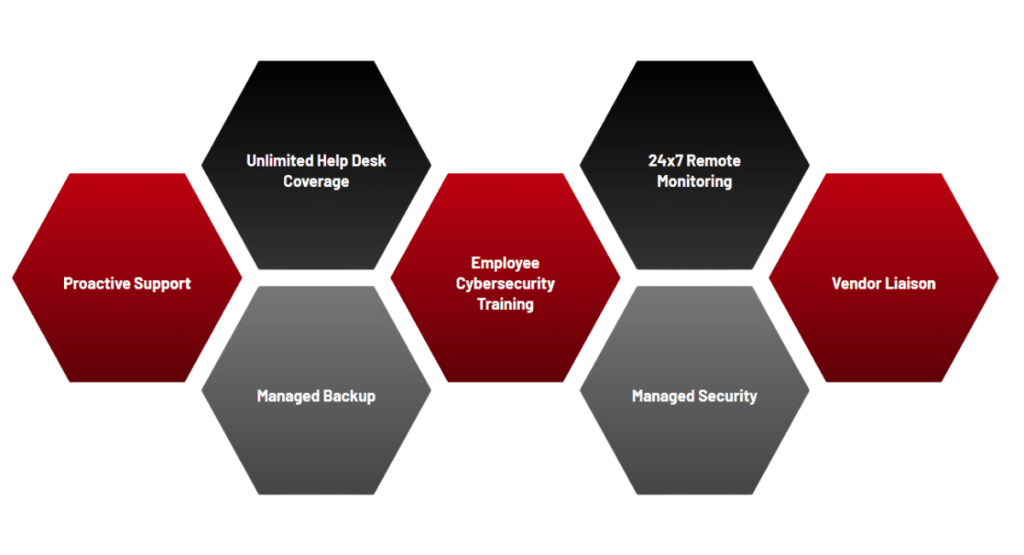 Keeping a close eye on your networks is crucial for ensuring the optimal performance and security of your IT systems. With network monitoring in place, IT professionals can detect and address potential issues before they escalate into major problems.
IT Support and Help Desk Services
Encountering problems with your IT equipment or software? No worries! Your users can quickly report any issues, ensuring that problems are addressed in a timely manner.
In the event of an outage or disaster, your business operations can resume as normal with little to no data loss.
Cloud-based solutions offer businesses the flexibility of accessing their data and applications from anywhere with an internet connection. This makes remote work and collaboration a breeze, boosting productivity and efficiency.
How To Choose a Managed Service Provider
There are several crucial factors to consider before you choose a provider. These factors can help ensure that you select a provider who can meet your organization's technology needs and provide reliable support. Here are four key considerations:
It's important to select a managed IT service provider that has experience in your specific industry. This allows them to offer tailored solutions to your unique challenges.
After all, different industries have different technology requirements and compliance regulations.
Don't just jump into a partnership blindly. Look for a managed IT service provider with a solid track record of success.
Do your research, check their reputation, and don't hesitate to reach out to their clients for references and testimonials. A provider with a proven track record demonstrates their ability to deliver quality services and support.
Local Support and Responsiveness
In a region where relationships and personalized service matter, partnering with a provider in your area ensures that you have a dedicated team that understands your business.
This local touch enhances communication, fosters trust, and facilitates a stronger partnership. Assess their communication channels, response times, and service level agreements (SLAs).
Every organization has unique IT requirements and objectives. That's why a good managed IT service provider should offer customizable solutions. Be cautious of providers that offer one-size-fits-all packages.
It's also important to consider other aspects such as security measures, scalability options, pricing structure, and the ability to integrate with your existing systems.
Could Your Industry Benefit from Outsourced IT Support?
Next, let's explore some of the industries in Rochester, NY that can benefit from outsourced IT support.
Healthcare Providers: Improve patient care through secure data management and seamless access to electronic health records.
Finance and Banking Institutions: Enhance your cybersecurity posture and ensure regulatory compliance.
Manufacturing Companies: Optimize your operations with improved supply chain management and increased productivity.
Legal Services: Benefit from secure cloud storage and remote access to important documents.
In short, tailored managed IT services can help businesses across various sectors in Rochester, NY increase efficiency, reduce costs, and gain a competitive advantage.
If you're looking to make the switch to managed IT services or need a provider who better suits your needs, we'd love to talk. At Just Solutions, we have more than two decades of experience collaborating with businesses in the Rochester area. We've honed our skills in developing customized solutions that precisely meet the unique needs of your business.
Our approach begins by understanding your goals and carefully evaluating your current IT situation. This allows us to present you with customized solutions and establish a clear plan of action. But we don't stop there.
We provide regular check-ins, technology business reviews, and proactive maintenance and monitoring to ensure your IT infrastructure is always in top shape.
Additionally, we offer customized training for your employees to enhance their knowledge of cybercrime and information security risks.
Are There IT Companies Near Me?
As your one-stop shop for all your IT needs, we act as the first line of defense, working directly with third-party vendors when necessary. Our continuous efforts focus on identifying and preventing any potential points of failure in your IT infrastructure, guaranteeing that your business operates efficiently.
If you're curious about how managed IT services can benefit your business, don't hesitate to reach out. Contact us today and let's unlock the true potential of your business together.