Let's be honest, differentiating between managed IT service providers (MSPs) can often feel as complicated as troubleshooting a network issue. With so many similar services and claims of expertise, choosing the right MSP can be difficult. However, if you've worked with multiple MSPs before, you know that they're not all cut from the same cloth. Superior support, reliability, expertise, and services distinguish a top-tier MSP. The key is to find the perfect match for your business's unique needs.
What is a Managed IT Provider?
A Managed Service Provider (MSP) is an external organization responsible for your IT department's management. They oversee daily IT operations, ensuring seamless interaction between your employees and your IT systems. Their role extends to maintenance, monitoring, and alerting, maintaining optimal IT performance.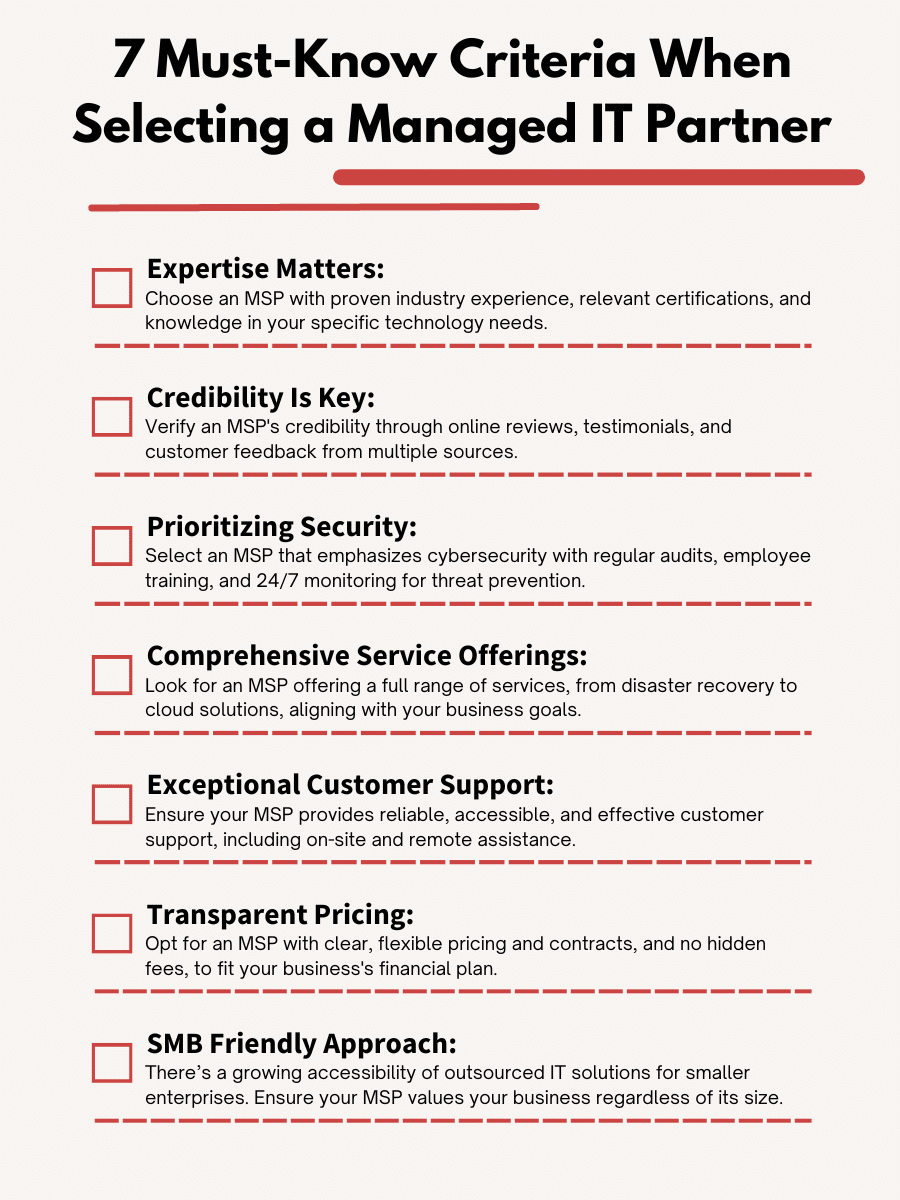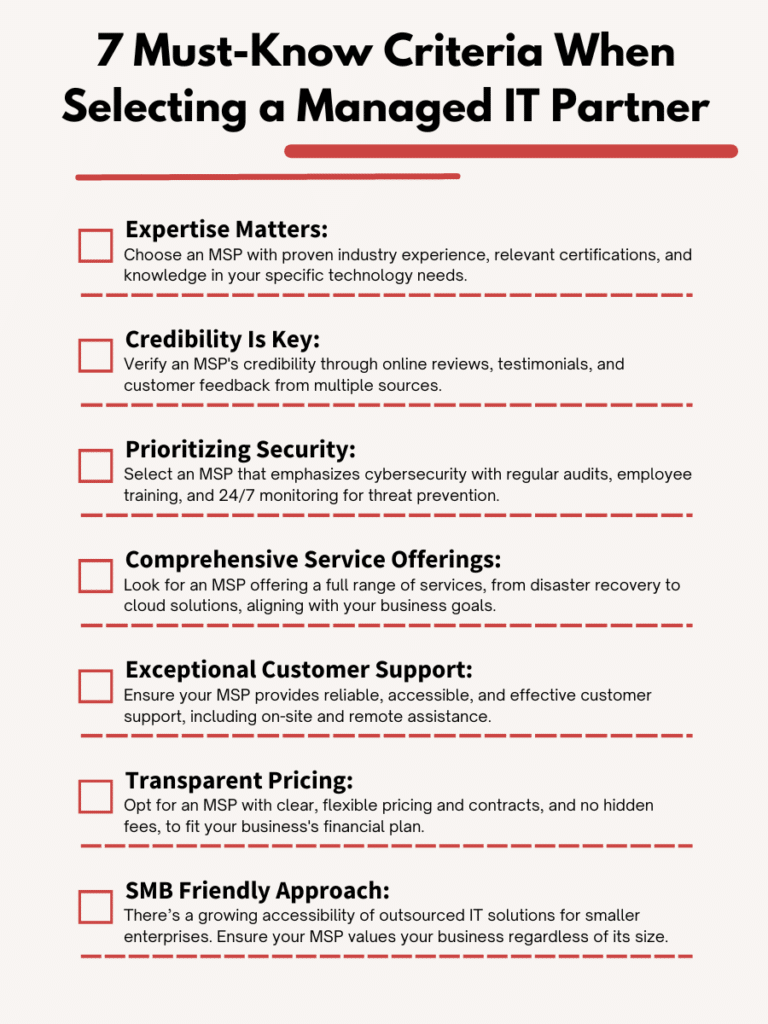 When it comes to outsourcing your IT requirements, you should consider expertise. You want to work with someone who knows what they're doing. Assess their industry experience, familiarity with your business sector, and proficiency in your specific technologies and systems. A proficient MSP has well-documented processes and a team holding relevant industry certifications. Seek a partner you can trust to expertly handle your IT needs.
Look for certifications like:
CompTIA
Cisco Certified Network Associate (CCNA)
Cisco Certified Network Professional (CCNP)
Certified Information Systems Security Professional (CISSP)
Amazon Web Services (AWS)
Certified ScrumMaster (CSM)
Certified Ethical Hacker (CEH)
Certified Information Systems Auditor (CISA)
Certified Cloud Security Professional (CCSP)
Certified Chief Information Security Officer (CISO)
You should always research a company before establishing any partnerships. To gain insights into the company's reputation, explore online reviews and testimonials. Remember to cross-reference multiple sources to gain a well-rounded understanding of the company's performance. While employee reviews may be biased, customers' experiences are more likely to be genuine. Keep in mind that one negative review does not necessarily reflect the company's overall performance. It's best to gather information from various sources and reach out to existing or past customers to learn more.
Explore sources such as:
Google Business Profile
Facebook Page Reviews
Clutch
Glassdoor
Website Testimonials
Cybersecurity is no longer optional. Businesses cited increasing cybersecurity risk concerns and the need for more expertise than they have internally as the top reasons to turn to an MSP. A good MSP will implement measures to prevent breaches before they occur. This includes things like regular security audits, employee training on best cyber hygiene practices, and the implementation of industry-standard security protocols. In addition, they should be able to provide you with 24/7 monitoring and support in case of a security incident.
The truth is, cyber-attacks are becoming more and more common, and the consequences of a breach can be catastrophic for businesses of all sizes. That's why it's essential to partner with an MSP that takes security seriously and has the expertise to keep your company safe from cyber threats.
Comprehensive Service Offerings
Outsourcing your IT support has several advantages, one of which is having a single provider who manages your entire technology department. This eliminates the need to work with multiple external sources and streamlines your IT needs. You'll want to make sure the provider's services align with your business goals.
Here are some services to consider:
Backup and Disaster Recovery
Help Desk Support
Cybersecurity Solutions
24×7 Remote Monitoring
Vendor Liaison
Cloud Solutions
Managed Security
VoIP Phone Systems
Copiers and MFPs
Network and Cabling Services
Exceptional Customer Support
Even if they have the best services in the market, poor customer support could result in a short-lived relationship. Don't settle for an IT provider that makes you hesitate to call for assistance, resulting in unresolved issues.
Opt for a provider that offers dependable support, availability, and effective communication. On-site and remote support options are a plus, particularly if proximity is a concern.
Consider the IT provider's pricing structure and contract terms.  During your initial meeting, MSPs will present their pricing model. Be sure to ask about their workstation charges and tiered pricing options. It's important to ask questions to fully grasp the service level agreement. Look for a provider that offers transparent pricing and flexible contract options. Be wary of providers that have hidden fees.
According to Datto's Global State of the MSP Report, in 2023 the majority of MSP respondents reported serving businesses with 26-50 employees (23%)-a shift from 2022, where most popular employee size was 50-100 employees (20%). This trend indicates a growing accessibility of outsourced IT solutions for smaller enterprises. Ensure your MSP values your business regardless of its size.
Why Choose Just Solutions for Managed IT Services
When choosing a provider, it really all depends on what your needs are. Technology services from Just Solutions are designed, created and implemented with your unique business needs in mind so you know you'll see a return on your IT investments today and in the future. Discover why so many businesses are turning to Just Solutions for the best and brightest in IT support. We believe every business no matter its size should have access to top-notch it solutions. Whether you have 5 users or 50, if you want to leverage technology to grow your business we have a support plan for you.
Call us at (585) 425-3420 or send us a message to schedule a free discovery call.