For growing businesses, a virtual chief information officer (vCIO) offers a compelling solution to IT challenges. As your small business expands, do you find your IT systems becoming bottlenecks, leading to reduced efficiency, and missed opportunities?
While the thought of hiring a full-time IT executive to transform and upgrade your systems might have crossed your mind, the associated costs can be daunting. Thankfully, turning to a vCIO presents a cost-effective approach, equipping you with a strategic roadmap for tech success.
The Difference Between a vCIO and a CIO
A Virtual Chief Information Officer (vCIO) is a strategic IT consultant who plays a crucial role in helping organizations leverage technology to achieve their business objectives. While a traditional Chief Information Officer (CIO) typically holds an in-house, full-time position, a vCIO provides similar services on an outsourced or part-time basis.
In other words, they are there without being there, taking a virtual seat in your office.
The strategic role of technology in business has evolved from a support function to a key driver of efficiency and growth. Aligning technology with business goals can help businesses stay competitive and improve operations.
With a vCIO your business can make better technology decisions, understand security threats, and optimize processes at a fraction of the cost of hiring a CIO.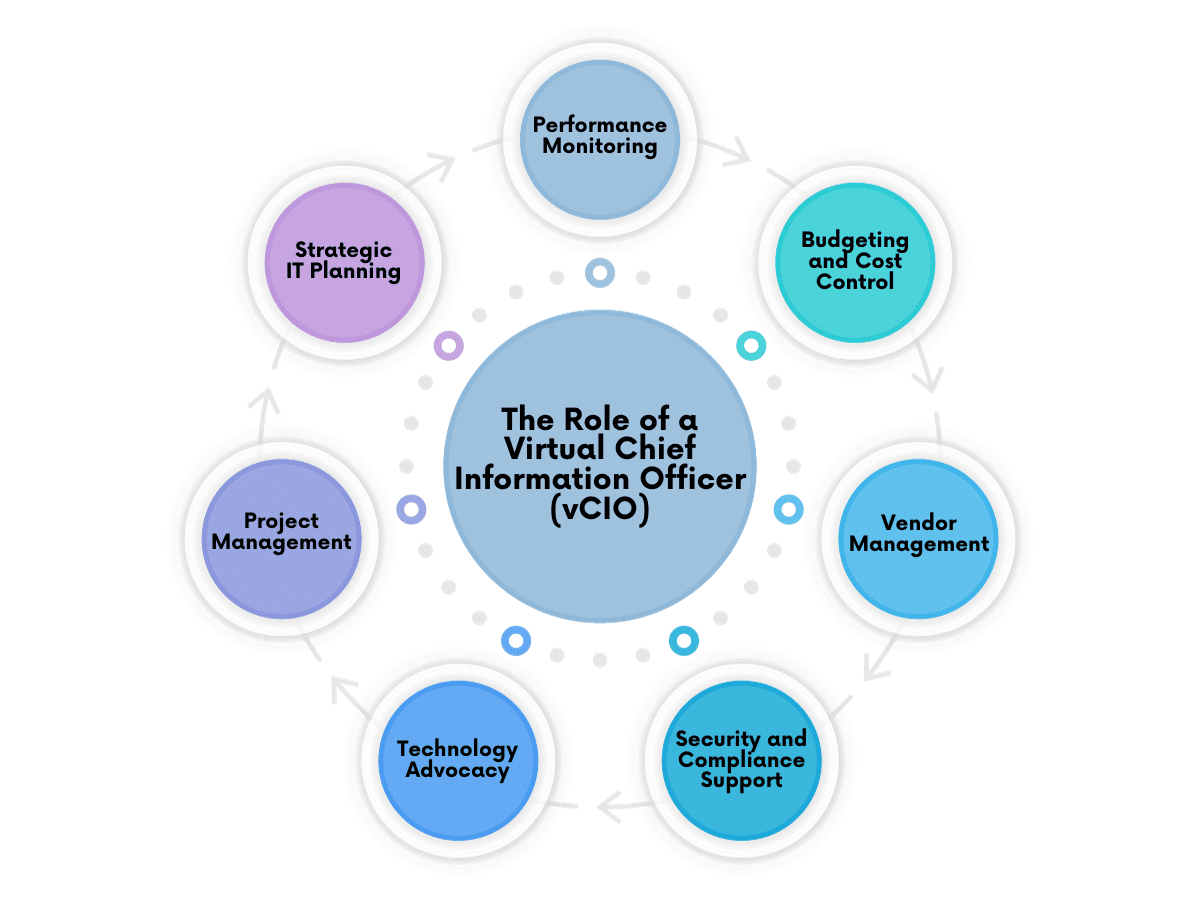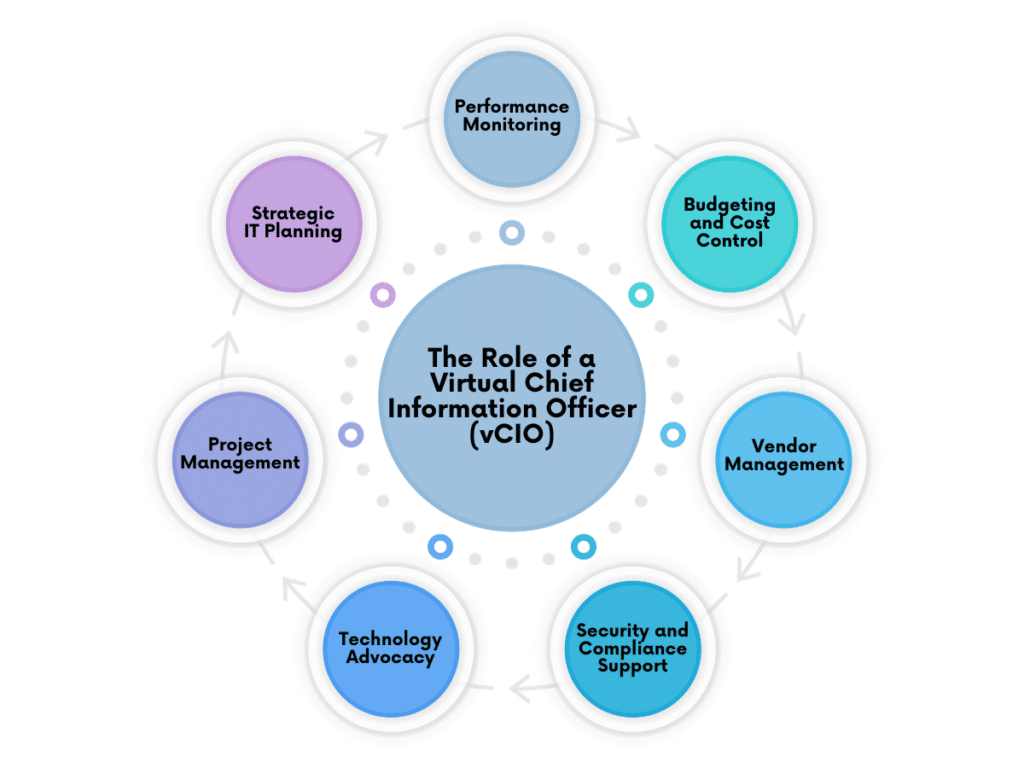 A well-orchestrated IT strategy is pivotal to realizing your business aspirations. This assertion is backed by data: Roughly two thirds (64%) of SMBs indicate technology is a primary factor in pursuing their business objectives. Collaborating with a vCIO can propel you towards those milestones more swiftly.
By partnering with a vCIO, you unlock on-demand access to niche expertise. Their role isn't limited to merely suggesting tech options; they engage deeply with your leadership team to grasp your unique needs, ensuring your tech choices align with your business vision.
While you're the master of your business domain, a vCIO, backed by their rich technological background, enhances your decision-making arsenal. Their approach involves a thorough assessment of your existing tech landscape, pinpointing potential vulnerabilities and areas of improvement, and subsequently offering tailored suggestions to elevate your operations.
At the heart of it, your vCIO is your IT champion, diligently overseeing your systems to ensure they function optimally. This means you have a dedicated ally constantly scanning your infrastructure, pinpointing, and resolving any concerns before they escalate.
Part of their commitment involves staying updated on system enhancements and hardware upgrades to boost your IT performance. You're never out of the loop with them. They consistently furnish your leadership team with clear and succinct updates on IT performance and ongoing projects.
Budgeting And Cost Management
Opting for a vCIO can be a savvy financial decision compared to bringing on a full-time CIO, as it allows you to tap into specialized expertise only when it's required. If your organization lacks a dedicated technology coordinator, a vCIO can guide you in crafting and overseeing your IT budget.
Their role extends to prioritizing tech projects, suggesting economical solutions, and guaranteeing that your tech expenditures resonate with your strategic goals. One of the best aspects of this service is its scalability; as your organization evolves or as your tech requirements shift, you can modify the support you receive.
Beyond just cost management, a vCIO can pinpoint areas for savings, process enhancements, and efficiency boosts. Plus, they keep you updated, ensuring that your tech investments keep pace with the latest industry trends.
With growth comes a larger tech stack and the accompanying vendor management challenges. Interestingly, 92% of small businesses are using one or more cloud-based solution, according to the SMB Group. Save your time for what you do best and let a vCIO tackle the vendor maze for you. 
From nurturing vendor relationships to contract negotiations and ensuring service delivery, they handle it all. Let them manage the tech talk, so you stay focused on your core tasks.
As technology has become more advanced, so have the threats to cybersecurity. Hackers and cybercriminals are constantly finding new ways to breach security systems, steal sensitive information, and cause damage to businesses. This is why having a vCIO to assess your organization's security posture is so important.
They're responsible for evaluating the security measures currently in place, identifying vulnerabilities, and making recommendations for improvements. They also ensure that your organization is compliant with industry regulations and standards.
By working with a vCIO, businesses can proactively address potential security risks and prevent costly data breaches. Additionally, having a strong cybersecurity posture can increase customer trust and confidence in your business.
Meeting Your Business IT Needs
In summary, a vCIO serves as a strategic partner, helping your organization maximize the value of its IT investments, reduce risks, and stay competitive. They ensure that your IT strategy aligns with your business objectives and provide the expertise needed to make informed decisions about technology, security, and budgeting.
These services aren't exclusive to big businesses. If you're an SMB you can gain access to leadership you might not be able to afford to have on staff.
Our virtual Chief Information Officers (vCIOs) specialize in helping customers maintain and secure their current IT infrastructure. We also offer forward-thinking services, such as identifying opportunities for innovation, business growth, and revenue.
This unique offering comes standard with our managed IT services, setting us apart from other technology providers in the area. Schedule a consultation today to learn how our IT management services can help your business thrive.