Have you ever thought about how a managed print service can help your business? As trivial as it may seem, printing remains a core operation for many businesses. From daily reports to essential contracts, printed materials still play a pivotal role.
Yet, managing these tasks can be challenging without the right support. Let's dive into how managed print services can benefit your organization.
What Does Managed Print Services Mean?
Just as you maintain the rest of your technology, why not maintain your printers? Who takes care of your printer once you purchase it, especially when issues arise?
Managed Print Services (MPS) involves outsourcing the management of a company's printing devices. This includes support for printers, copiers, and scanners.
MPS isn't only about fixing a paper jam or replacing toner. It's a holistic approach to optimizing the entire printing process It involves:
Monitoring usage patterns to forecast needs.
Suggesting placement of devices based on employee requirements.
Recommendations for reducing printing, where applicable.
Your MPS provider can take care of all your printing needs, from equipment to repairs.
Improved Print Infrastructure
At first glance, printing may seem basic – press a button, and the document appears. You likely don't consider your printer until it stops working.
But, when spread across different departments, varying needs, and high-volume tasks, things can get complex.
With MPS businesses can experience reduced downtime and increased productivity. By proactively maintaining devices, disruptions become rare.
Many providers also offer digital solutions to complement print services. This includes document management systems and cloud-based storage and retrieval.
You can be confident that you're using each printer to its fullest potential.
Did you know that according to Gartner, 90% of businesses don't know exactly how much they spend on printing? The cost of printing might seem minor, but it accumulates over time.
The cost of constant repairs
Ordering too many supplies
Losing work time because printers often break down
These blind spots could be preventing businesses from identifying potential savings.
If your business relies heavily on printing, then you need a strategy that reduces costs, helps your company work better, and limits service calls.
An average office worker prints 10,000 pages per year, which is about $725 annually per person.

Now multiply that by the number of employees you have. You might be surprised how quickly printing expenses add up. Toner, paper, and energy consumption aren't the only costs you have to think about. If you have older equipment, you might be looking at multiple service calls.
MPS provides a window into these costs, offering a significant opportunity for savings. By optimizing printing processes, you can curtail costs from wasted paper and supplies. Most MPS providers have tools that help predict and manage printing costs.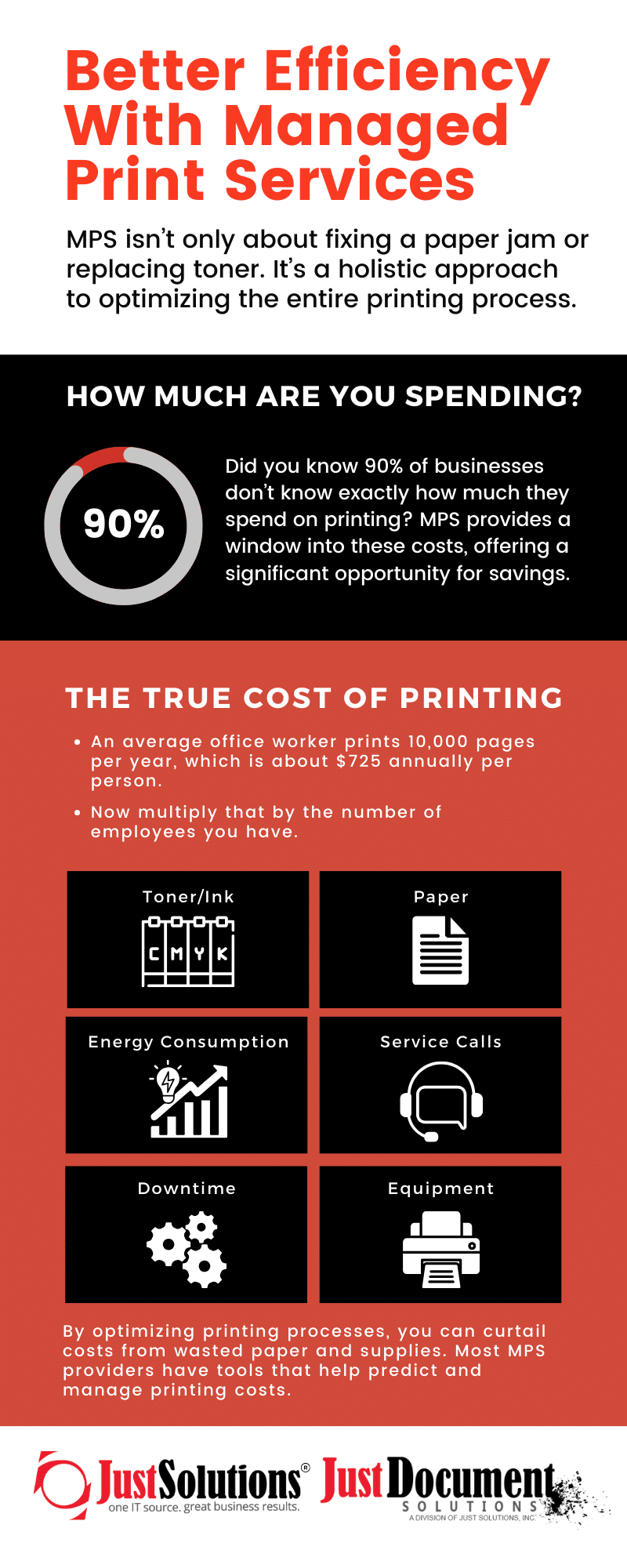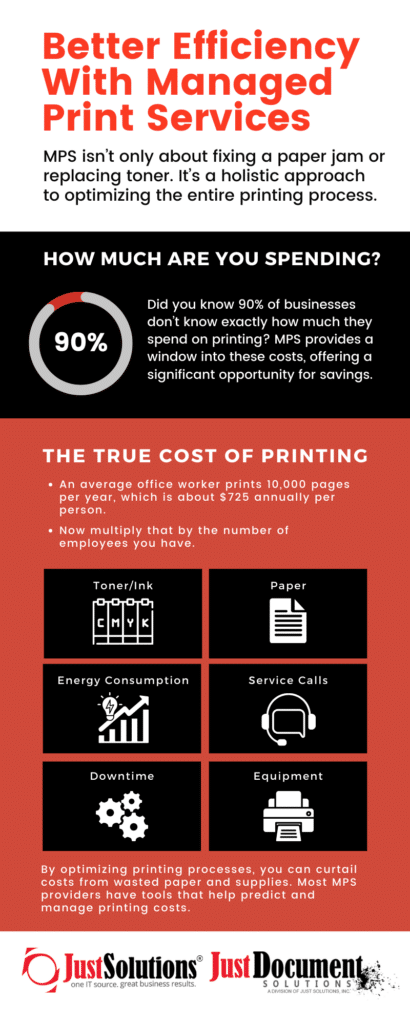 Since many businesses don't track their printing spending, they probably aren't thinking about printer security either.
Your printer might be the biggest security risk in your office.
Any device that connects to your network is vulnerable and deserves your attention. From data breaches to denial-of-service attacks, your printers can become a security liability.
An MPS provider can update your printer software and monitor your network to protect your printers from threats.
Small to medium-sized businesses (SMBs) stand to gain immensely from cloud adoption. It offers cost-saving potential, scalability, and tools previously reserved for bigger enterprises. The flexible pricing models of many cloud services ensure affordability, even for businesses on a tight budget.
Additionally, the cloud's disaster recovery capabilities ensure that in events like system failures, data remains secure and easily retrievable.
Here's another scenario. Your boss asks you to print something. They need the document ASAP, as they're about to head out to a meeting. You're about one page away from the finish line.
The last page starts inching out when suddenly it stops, and the alert comes on.
Paper Jam.
No big deal. You pull the paper out, clear the alert, and go back to your desk to reprint the last page.
The timing couldn't be worse. The page won't print and you try again to no avail. Without support, you must tell your boss the document will wait until someone can fix the issue.
When printers fail, businesses can't afford to wait. Having technicians ready to help onsite with issues and updates can make all the difference.
If you value the environment (which you should), MPS can help your office become more eco-friendly. It's not just about using less paper. It's also about saving ink, energy, and how we make and throw away devices.
Copier Sales & Services In Rochester, NY
By integrating MPS you optimize costs and efficiency. You also ensure you're ready for the future of business operations. Whether it's a transition to more digital processes or integrating newer technologies, you're always a step ahead.
That's why Just Solutions has an entire division, under the name of Just Document Solutions, dedicated to taking care of all your business printing needs.
We work side-by-side with Brother, Xerox®, Epson, Lexmark and Kyocera to help you find the best solutions to run and grow your business.
The right print solutions can help you manage costs while maintaining document security and improving productivity. Contact us to address your business needs with a fully personalized solution!