Business Security Through 24/7 Cyber-threat Monitoring and Response
Introducing 24x7x365 cyber-threat monitoring and response services
No company wants to experience a data breach but it happens all the time. While larger companies can often weather the financial and PR storms associated with a breach, the average small business closes their doors within 6 months of a cyber-security incident1. What's worse is that a vast majority of breaches are active within the network for months or years before detection – the only thing missing in these cases was a security expert looking for the evidence of a compromise 2.
Don't allow your business to be a victim of a cyber-hack!
Let skilled security experts keep watch over the activity on your network. By applying cutting-edge SIEM (Security Information and Event Management) technology and established threat intelligence, suspicious activity and security incidents on your network can be identified and remediated as they occur.
Our process combines cloud-based technology, highly-trained security experts and a security response team who take action on any incidents targeting your network.
What's involved in our 24/7 security service?
Protect your network from these threats and more:
Important for your business:
Cyber-threat monitoring and detection are the cornerstones of an effective IT security strategy. But collecting the right data, parsing and analyzing it into manageable and useful pieces of information is an extremely complex task.
Our 24/7 security service employs automated technology, paired with a staff of security experts, to reduce the risk and complexity of protecting your critical network systems.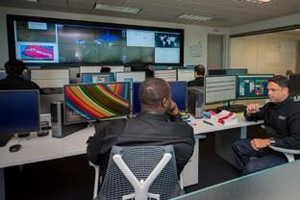 Sign up For 24x7 SOC Monitoring!
"*" indicates required fields