Free Executive Brief Reveals…
The Top 10 Ways Hackers Get Around Your Firewall And Anti-Virus To Rob You Blind
Cybercrime is at an all-time high, and hackers are setting their sights on small and medium businesses who are "low hanging fruit." Don't be their next victim! This report reveals the most common ways that hackers get in and how to protect yourself today.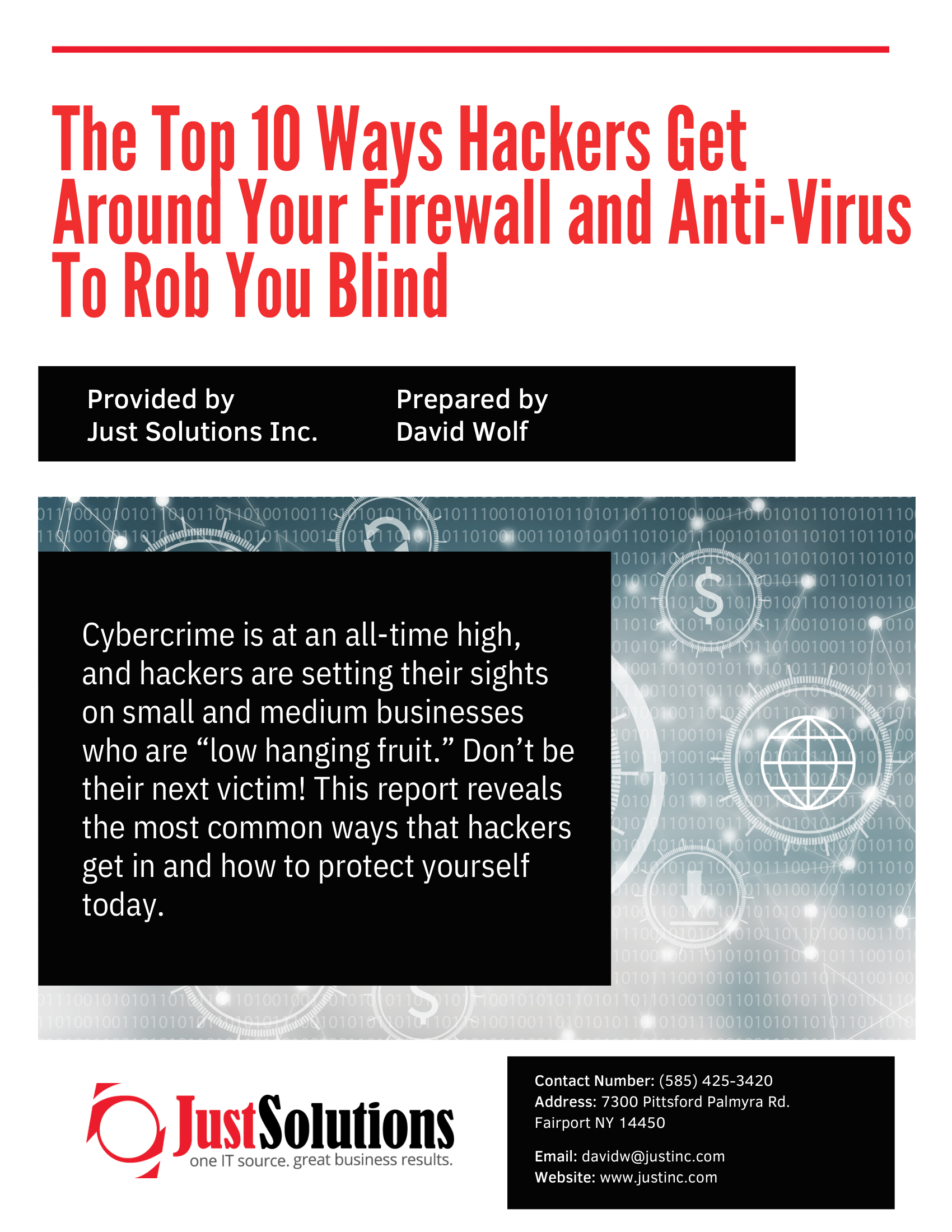 In this Free Executive Brief, We Cover:
The #1 threat to your business that even the BEST firewalls and anti-virus software can't protect against (and what you need to do now to remedy it).
A common misconception about employee devices on your office network and exactly what you need to do now to shut this down immediately.
The shocking facts about why small business are the #1 target of cybercriminals – more than half of the reported cyber attacks are focused on small business for this one main reason that is easily fixed.
How to keep your network secure with the proliferation of mobile devices, cloud applications, e-mail, and social media sites connecting to your computer network.
To Claim Your FREE Report Today
Give Us A Call at 585-425-3420
Claim Your FREE Report Today
I love the new phone system. After a day or two of Rich helping us out I think we have it under control, and so much better then what we were using before!
Just Solutions was instrumental in making our transition from a very archaic unreliable phone system to the Allworx system seamless.
Just Solutions did an awesome job setting up the new Allworx phones - went off without a hitch. They really knows their stuff!
We have been utilizing the Allworx phone system for 5 years. We couldn't be more pleased with the Allworx system ease of use. The do not disturb lights work particularly well in our work environment as well as the intercom function that allows us to reach other buildings on site.