"21 Critical Questions Your IT Consultant Should Be Able To Say 'Yes' To."
Even if you aren't ready to make a change right now, this report will give you important questions you should ask your current IT person to make sure their policies, procedures and service standards won't leave you vulnerable to expensive problems, lost data, viruses, hacker attacks and a host of other problems.
Read this guide and you'll discover: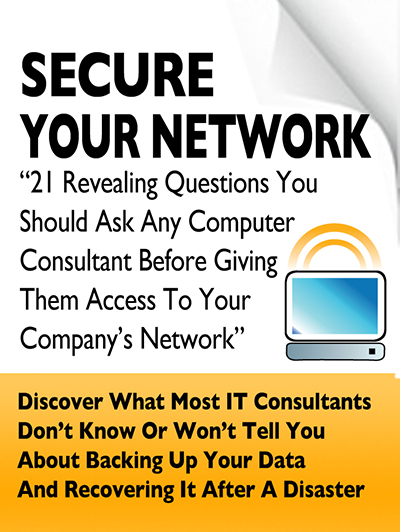 Choosing the wrong computer consultant to support your network can not only be incredibly frustrating and expensive, but you could end up costing you in downtime, data loss, and expensive repair bills, not to mention the headaches and frustration!
Get Your Report Now By Completing The Form On The Right
I just want to tell you that you have a gem of an employee on your hands. Tom Barlow is wonderful to work with. I have great confidence in him, he is courteous, and always a pleasure to see when he arrives. I've also always had a great experience with any of your techs that I have occasion to talk with on the phone. Congratulations on a wonderful staff!
I am worry free since we signed up for the offsite backup service. We are a small not-for-profit organization and do not have the funds available to invest in a server where all files can be saved and backed up so having the remote/offsite back up service is perfect for us not to mention it saves us time and it's safer for our data should there be a fire or computer crash.