Preventive Maintenance Plan
Maintaining Your Home Computer
$179.95* per computer per year
* Add $89 for old XP machines
** Save $30 each for 2 or more
Residential Quarterly Preventative Maintenance Plan
We perform these services FOUR times a year remotely at your home or in our service center:
Virus &Spyware Removal
Application & System Security Patches and Updates
Inspect Hardware
Check & Attempt Correction Data Errors
Remove Temp Files and Cookies
Drive Cleaning
Configure for Performance and Security
Insure Questionable Applications are Valid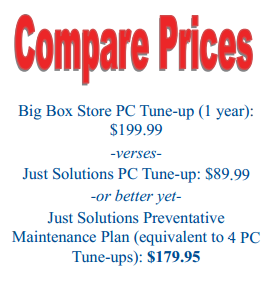 Computers need tune-ups just like automobiles. You need them to make sure your computer runs smooth and efficiently all-year round. You have enough going on in your day that you shouldn't have to worry about how your computer is running.
There is no reason that you should have to tolerate a slow computer. Having your computer go down can be devastating, Just Solutions Residential Quarterly Preventative Maintenance plan can help prevent your system from failure. Let us help you take your mind off things.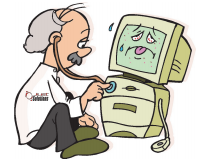 Consider us your local computer doctor that actually makes virtual house calls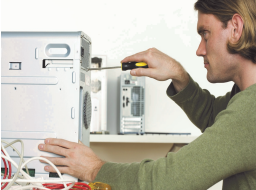 Purchase the PMP for 2 or more of your computers and save over $60 a year!
Sign Up by fill up the form and let Just Solutions keep your Computers Safe and Healthy throughout the year!