Where will your data be when disaster strikes?
The New Standard for Intelligent Business Continuity
JSI Vault is the only backup and disaster recovery solution to offer instant on-site and off-site virtualization, screenshot verification of backups, and intelligent business continuity all from one simple management interface.
Break Free from the Chain
The JSI Vault process eliminates the area where most problems traditionally occur: the backup chain. JSI Vault converts data directly into a virtual machine when a backup occurs. The most recent backup image is always the base and does not rely on past backups to restore data. Since each backup is a fully bootable virtual machine, there is no need for a conversion to occur before performing a restore. With no overly complicated process, data is always available immediately both onsite and off-site.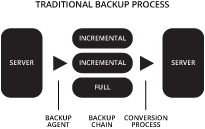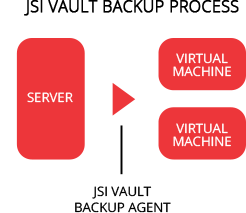 Our JSI Vault provides companies with an advanced insurance policy against data loss and costly downtime by utilizing a revolu¬tionary technology that dramatically simpli¬fies the backup and recovery process and eliminates the inherent inefficiency of the traditional backup chain. JSI Vault takes data directly from the server and converts it into virtual machine readable files that can be booted instantly from a web interface. This innovative way of storing data allows for instant on-site and offsite recovery.
For more information, fill out the form below
"*" indicates required fields
At Just Solutions, we pride ourselves in only offering the best equipment and software on the market. We assist you on all of your technology decisions from computers to phone systems, from Internet access to Cloud services. We guarantee to save you money and improve your business processes. Give us a try!